"The first 5 minutes are the most
critical, 10 minutes after the lead
was generated the odds of closing
the lead drop by 4 times, 30 minutes
after they drop by 21 times."
– Dr. James Oldroyd,
Kellog School of Management
— Brian Pereira
We know that leads are like fish in a pond – you've got to catch them before your competitor does. Ignore them and the fish go to a competitor. That's lost opportunities (and lost business) for you. There are millions of small and medium businesses in India who struggle with this very problem – how do they get to the fish first, and how do they get insights into what their fishermen are catching? Then along comes a Singapore-based start-up called Lucep that uses Artificial Intelligence technology to help SMBs catch leads, and bring it to the immediate attention of their salesmen. Sounds like a familiar story in the Bible (John 21: 1-14).
"If you call back a lead in the first five minutes you are 21 times more likely to convert. We've seen tech-savvy salesmen in companies converting leads to orders and now their colleagues, who are not using our solution, are begging to be on the system," said Zal Dastur, co-founder of Lucep.
According to Lucep, the problem is that 35 – 65 percent of the leads are never called. But with this solution, salesmen get instant notifications and the app presents immediate click-to-call capabilities. So a customer is more likely to be called by one of the salesmen.
The Singapore-based company has just set up its office in Bengaluru after India became its second biggest market. It claims 30 – 40 percent of its organic growth comes from India.
"Unlike 5 – 7 years ago, people in India are more comfortable doing business online now. The uptake on businesses going online is phenomenal, and this is just not from B2C. We are also seeing the more traditional B2B businesses looking at the Internet as a means of revenue," said Dastur.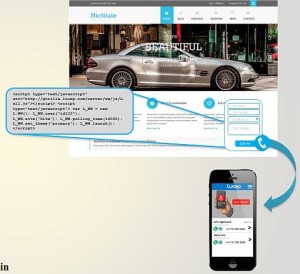 Lucep built an advanced artificial intelligence (AI) engine codenamed  "Sales Gorilla" into their system's backend with the goal of learning how better to  engage with visitors to websites and encourage them to contact the business. When you subscribe to its service, a small script is injected into your company website. So what does the script do? When potential customers visit your website, a small call-back widget pops up and asks for a few contact details. Your sales team in turn install the Lucep app on their phones. So when customers click the "Call me" button on the widget (and raise and enquiry), the data goes to the Lucep server and the software sends instant notifications to the salesmen's app and does a polling. A salesperson can respond to the lead and call the customer with one click from the app itself.
"It is much like a taxi app. Only when a salesman says he is available to respond to the lead does he get the name and phone number of the customer. The primary target here are B2B businesses and the primary intention is to meet the customer over a coffee or at his office; nine times out of 10 the transaction takes place offline. Don't expect to get someone to pay for a product online, that's not how it works. When the product value exceeds $1,000 customers want to meet and hold some discussions," said Dastur.
The essence of this app and widget is to get the attention of potential clients, because with B2B customers have lots of choices and will go with the business that talks to them first.
Reporting and Analytics
For management, there is a problem of not knowing the transaction history. Salesmen rarely enter details in the CRM system and it's hard to gauge what customers want when they call. The Lucep system offers instant lead analytics and reporting with customer details.
Management also need to track what the salesforce is doing, who is working the hardest, who is and isn't converting leads, closing sales, response times etc. A regular CRM system can help here, provided people log in and use it. CRM systems also require a lot of admin to keep updated. But with Lucep's mobile app reporting is instant and there are live dashboards. Reports can also be delivered by email.
The Lucep app also provides management analytics about leads and the performance of the sales team.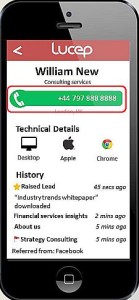 "We got feedback from our customers about these reports. They say these reports make so much more sense than Google Analytics. You have to be tech-minded to understand Google Analytics; most small business owners are not, and neither do they have time to go through these Google reports. We make things very clear and very simple in our reports. One report shows you everything," said Dastur.
Comparing existing CRO (conversion rate optimization) software to his solution Dastur says CRO software requires a user to do A-B testing; it requires human input. But Lucep uses AI to do this without human intervention.
"We have thousands of data points coming from all of our websites so the end-user is going to start churning through this. So we advise our clients what they should be doing if they have, say, a user that comes in from Facebook or Google. The modal pop-up can be arranged automatically by the system on the screen so that they are more likely to fill in a lead. We are also going to tell you things like the highest majority of your closed leads come on a Thursday afternoon. So you should target Thursday afternoon. It is that kind of advice that we want to start giving," said Dastur.
And that's how Lucep leverages artificial intelligence. It has nine parameters that create different personas, and on the basis of this, important decisions about customers can be made.
The three-year-old company is 100% self-funded. It signed on some large enterprise clients during its first two years, and that brought in funding for its operations. It is likely to raise $1.5 million next year and this will be purely for marketing, scaling and growth.
Lucep has priced its product carefully, making it affordable for SMBs. The basic plan cost $25 per user per month (billed monthly). But you can also opt for $20 per user per month (billed yearly) or $15 per user per month (billed every two years).
A rough calculation shows that you can easily recover that cost with a higher rate of conversion – as guaranteed by Lucep.
—————————————————————————————————————————————-
---